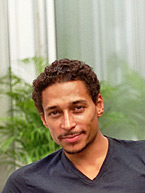 Philosophy
The Pilates method was not originally designed for large classes that you find all too often today. Therefore, I offer only Personal Training and Duo Training. In doing so, I can thoroughly cater to your needs. I would like to accompany you in achieving your personal aims. It is important to me to let you become aware of how Pilates affects your body, so you can integrate Pilates into your everyday life and your activities.

Pilates is not a sport, it is a lifestyle.


Biography
Jean-Claude Nelson was born in Munich. At the age of 8, he started studying classical and modern ballet at the Munich Academy of Music. After 10 years, he graduated with a diploma and was immediately engaged by the Bavarian State Ballet. Soon he moved abroad and danced as a soloist with the London City Ballet, the Ballet of Monte Carlo and the Ballet of the Opera of Lyon.

After intense international tours through Europe, Asia, North and South America, Jean-Claude suffered a serious knee injury that forced him to interrupt his career. In this difficult period of life he learned the Pilates method.

He was so enthusiastic about the positive results of the training that he decided to put all his energy into a two-year study of the authentic Pilates method. He began his training in The Hague with Marjorie Oron and worked with Romana Krysanowska ,Sari Meija Santo, Sabina Formichella, Philippe Taupin, Jane Poerwoatmodjo and Henry Rushing among others. He received his diploma in 2006 from the internationally renowned master teacher Romana Krysanowska (True Pilates New York, Romanaʻs Pilates).

Jean-Claude returned to France in order to work as a freelance artist and independent Pilates instructor. He also taught Pilates in Monaco, Lyon, The Hague, Amsterdam, London, New York and Paris. In order to deepen his educational expertise, he trained further as a state-certified dance teacher in France in 2010.

In 2012, he decided to return to his home city of Munich to found the Bluebird Pilates studio.
On request, Jean-Claude teaches in English, German and French language.